Cellfinaź New Orleans
Cellfina® is the only FDA-cleared, minimally invasive procedure that targets cellulite at the root – the connective bands contained within the fat of the thighs and buttocks. These connective bands inside the fat are responsible for cellulite. Cellfina® uses a microblade system to treat the unwanted dents and dimples associated with moderate to severe cellulite. The result is healthy, smoother looking skin that has been shown to last three years or, in many cases, much longer, the longest approved duration for cellulite treatment.

Both Drs. Coleman were part of the research team which lead to the FDA approval of Celfina®. They have published scientific articles and lectured widely on this technique.

After identifying and marking areas, Drs. Coleman use the Cellfina® handheld micro-needling device to treat the marked areas with a technique called subcision, which severs the connective bands. Once the tissue is severed, the puckered skin bounces back to produce a significantly improved appearance. The procedure only needs to be administered once in the office under local anesthesia and takes 45 minutes to complete. Celfina® can be combined with liposuction in many patients.

With limited downtime, patients can resume their daily routine after 24 hours. Patients can see results in as little as three days after the procedure and enjoy results for years.
Before and Afters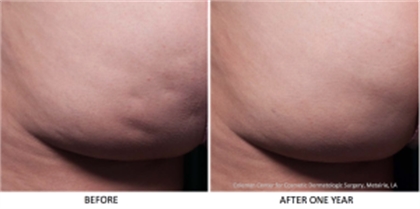 Facial Rejuvenation
Other Treatments